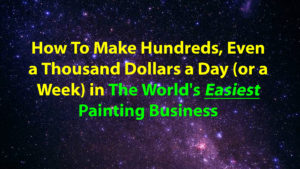 How To Make Hundreds, Even a Thousand Dollars a Day (or a Week) in The World's Easiest Painting Business
Hi, my name is Lee Cusano, owner of Sci-Fi Ceilings® and creator of The Amazing Star Mural Painting System.
Have you been looking for an easy, low cost business to start? Maybe a part-time business? Or maybe you're looking to retire and want to make some extra cash working here and there whenever you want?
Watch Video Here: https://youtu.be/3MOBGXhWX-U
Well, I got good news! I can show you how to start what I call The World's Easiest Painting Business. It pays extremely well and you can work just a few days a week if you want. And you don't even have to be talented to do this!
To find out more just visit http://AmazingStarMurals.com and look for the Magic Poster offer on my site! Or watch this video! https://youtu.be/3MOBGXhWX-U