Monday, 10:37 A.M.
Re:

Making money as a Trim Carpenter.

Become a Finish Carpenter and Make $25 Per Hour or More!

Fully-illustrated! Make $25 - $45 Per Hour installing Woodwork and Trim!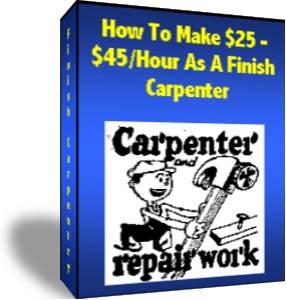 Discover how to do ALL types of simple carpentry work or repairs that no homeowner knows or wants to deal with!

Become a Pro at installing . . .

* Window & Door Casings

* Baseboards and More...

* What tools you need (very inexpensive to start!)

* The best types of wood to choose from

* Work full or part-time and make $25 - $45 per hour!

*

G

et established

for consistent business

on a permanent basis.

* Everything in book is fully-illustrated!

Dear friend,

My name is Lee Cusano, owner of Lee's Painting Service located in Kalamazoo, MI. I have been in the Painting and Drywall Repair business for over 15 years now.

From time to time I have been asked to do all sorts of small carpentry repairs in my painting business. I can show you how to make more money in your own home improvement or painting business simply by adding carpentry work to it!

In this manual I show picture after picture for installing simple casings and baseboard trim. Also the few tools needed to make it easy.

If you like the idea of getting paid good money for having your own trade. Carpentry repairs, remodeling, etc. could be a goldmine for you!

Getting paid a full-time income for working only part-time hours is available for you also!

Right off the bat you could be making $300, $500, $1,000 or MORE from your very first job. And customers many times want their trim stained and painted afterwards which means even more profits for YOU!

Order today and start your own carpentry business NOW!

===>

BONUS!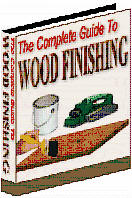 If you order before midnight you also get the "The Complete Guide To Wood Finishing"

*

Discover

how to get beautiful, professional results no matter what your project is, even if you have never tried your hand at wood finishing before

!

* You will learn about every step in the wood finishing process from a professional wood finisher with years of experience.

* Order Now and Get everything INSTANTLY in Digital download. You can even print out the pages for on-the-job referencing!

ORDER NOW and I'll even include a free life-time of e-mail consultation to help you grow your business faster!
WARNING: This special service won't be offered for very long though. Because I am only one person, who also is busy! So, if you really want to start your own Finish Carpentry business, you might want to order today before this offer is gone for good!
------------------------------------

Order with Confidence with my "No Risk" 30-Day Money-Back Guarantee!
Try my book out for a 30 days. During that time, if for any reason you are unsatisfied, just e-mail me for a no-questions asked, no hassle refund and you can even keep the bonus e-book for your inconvenience.
------------------------------------
--------------------------
Yes!
I want to

make $25/hr

in my own Finish Carpentry business.
Since I am ordering before I understand I will also receive the second e-book: "The Complete Guide To Wood Finishing" for FREE along with my order of "

Light Carpentry

" and also unlimited free consultation by e-mail.
I also understand that my credit card will be charged a one-time fee of $27. I also understand that my order is guaranteed as follows: If during the first 30 days, for any reason I am unsatisfied with this product, just e-mail you for a no-questions asked, no-hassle refund and I can even keep the 2nd bonus e-book.
--------------------------

Only $27.00! (Instant Download!)
ORDER NOW USING PayPal's SECURE SERVER!
OR
If you are unsure about ordering by credit card, you can send Cash, Check or Money order for $39.97 and your complete mailing address for Light Carpentry on CD-ROM. Again, I will RUSH everything to you by Priority First Class Mail.

Lee's Painting Service-LC,

Box 661, Grand Bay, AL 36541